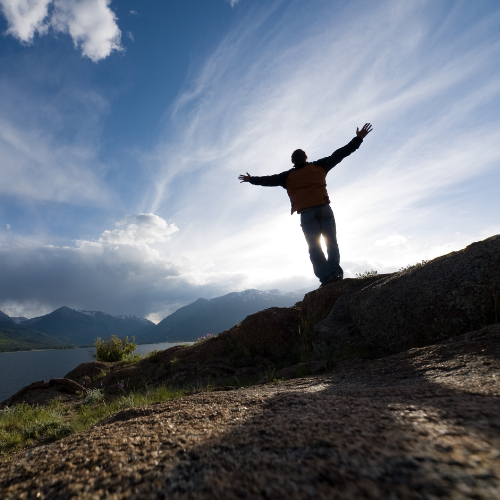 ---
All praise, O my God, be to Thee Who art the Source of all glory and majesty, of greatness and honor, of sovereignty and dominion, of loftiness and grace, of awe and power. Whomsoever Thou willest Thou causest to draw nigh unto the Most Great Ocean, and on whomsoever Thou desirest Thou conferrest the honor of recognizing Thy Most Ancient Name. Of all who are in heaven and on earth, none can withstand the operation of Thy sovereign Will. From all eternity Thou didst rule the entire creation, and Thou wilt continue for evermore to exercise Thy dominion over all created things. There is none other God but Thee, the Almighty, The Most Exalted, the All-Powerful, the All-Wise.
Illumine, O Lord, the faces of Thy servants, that they may behold Thee; and cleanse their hearts that they may turn unto the court of Thy heavenly favors, and recognize Him Who is the Manifestation of Thy Self and the Dayspring of Thine Essence. Verily, Thou art the Lord of all worlds. There is no God but Thee, the Unconstrained, the All-Subduing.
---
In the Name of God, the Most High! Lauded and glorified art Thou, Lord, God Omnipotent! Thou before Whose wisdom the wise falleth short and faileth, before Whose knowledge the learned confesseth his ignorance, before Whose might the strong waxeth weak, before Whose wealth the rich testifieth to his poverty, before Whose light the enlightened is lost in darkness, toward the shrine of Whose knowledge turneth the essence of all understanding and around the sanctuary of Whose presence circle the souls of all mankind.
How then can I sing and tell of Thine Essence, which the wisdom of the wise and the learning of the learned have failed to comprehend, inasmuch as no man can sing that which he understandeth not, nor recount that unto which he cannot attain, whilst Thou hast been from everlasting the Inaccessible, the Unsearchable. Powerless though I be to rise to the heavens of Thy glory and soar in the realms of Thy knowledge, I can but recount Thy tokens that tell of Thy glorious handiwork.
By Thy Glory! O Beloved of all hearts, Thou that alone canst still the pangs of yearning for Thee! Though all the dwellers of heaven and earth unite to glorify the least of Thy signs, wherein and whereby Thou hast revealed Thyself, yet would they fail, how much more to praise Thy holy Word, the creator of all Thy tokens.
All praise and glory be to Thee, Thou of Whom all things have testified that Thou art one and there is none other God but Thee, Who hast been from everlasting exalted above all peer or likeness and to everlasting shalt remain the same. All kings are but Thy servants and all beings, visible and invisible, as naught before Thee. There is none other God but Thee, the Gracious, the Powerful, the Most High.
---
Magnified be Thy name, O Lord my God! Thou art He Whom all things worship and Who worshipeth no one, Who is the Lord of all things and is the vassal of none, Who knoweth all things and is known of none. Thou didst wish to make Thyself known unto men; therefore, Thou didst, through a word of Thy mouth, bring creation into being and fashion the universe. There is none other God except Thee, the Fashioner, the Creator, the Almighty, the Most Powerful.
I implore Thee, by this very word that hath shone forth above the horizon of Thy will, to enable me to drink deep of the living waters through which Thou hast vivified the hearts of Thy chosen ones and quickened the souls of them that love Thee, that I may, at all times and under all conditions, turn my face wholly towards Thee.
Thou art the God of power, of glory and bounty. No God is there beside Thee, the Supreme Ruler, the All-Glorious, the Omniscient.
---
Glorified art Thou, O Lord my God! I yield Thee thanks for having enabled me to recognize the Manifestation of Thyself, and for having severed me from Thine enemies, and laid bare before mine eyes their misdeeds and wicked works in Thy days, and for having rid me of all attachment to them, and caused me to turn wholly towards Thy grace and bountiful favors. I give Thee thanks, also, for having sent down upon me from the clouds of Thy will that which hath so sanctified me from the hints of the infidels and the allusions of the misbelievers that I have fixed my heart firmly on Thee, and fled from such as have denied the light of Thy countenance. Again I thank Thee for having empowered me to be steadfast in Thy love, and to speak forth Thy praise and to extol Thy virtues, and for having given me to drink of the cup of Thy mercy that hath surpassed all things visible and invisible.
Thou art the Almighty, the Most Exalted, the All-Glorious, the All-Loving.
---
Praised be Thou, O Lord my God! Every time I attempt to make mention of Thee, I am hindered by the sublimity of Thy station and the overpowering greatness of Thy might. For were I to praise Thee throughout the length of Thy dominion and the duration of Thy sovereignty, I would find that my praise of Thee can befit only such as are like unto me, who are themselves Thy creatures, and who have been generated through the power of Thy decree and been fashioned through the potency of Thy will. And at whatever time my pen ascribeth glory to any one of Thy names, methinks I can hear the voice of its lamentation in its remoteness from Thee, and can recognize its cry because of its separation from Thy Self. I testify that everything other than Thee is but Thy creation and is held in the hollow of Thy hand. To have accepted any act or praise from Thy creatures is but an evidence of the wonders of Thy grace and bountiful favors, and a manifestation of Thy generosity and providence.
I entreat Thee, O my Lord, by Thy Most Great Name whereby Thou didst separate light from fire, and truth from denial, to send down upon me and upon such of my loved ones as are in my company the good of this world and of the next. Supply us, then, with Thy wondrous gifts that are hid from the eyes of men. Thou art, verily, the Fashioner of all creation. No God is there but Thee, the Almighty, the All-Glorious, the Most High.
---
God testifieth to the unity of His Godhood and to the singleness of His own Being. On the throne of eternity, from the inaccessible heights of His station, His tongue proclaimeth that there is none other God but Him. He Himself, independently of all else, hath ever been a witness unto His own oneness, the revealer of His own nature, the glorifier of His own essence. He, verily, is the All-Powerful, the Almighty, the Beauteous.
He is supreme over His servants, and standeth over His creatures. In His hand is the source of authority and truth. He maketh men alive by His signs, and causeth them to die through His wrath. He shall not be asked of His doings and His might is equal unto all things. He is the Potent, the All-Subduing. He holdeth within His grasp the empire of all things, and on His right hand is fixed the Kingdom of His Revelation. His power, verily, embraceth the whole of creation. Victory and overlordship are His; all might and dominion are His; all glory and greatness are His. He, of a truth, is the All-Glorious, the Most Powerful, the Unconditioned.
---
Lauded be Thy name, O my God! I testify that no thought of Thee, howsoever wondrous, can ever ascend into the heaven of Thy knowledge, and no praise of Thee, no matter how transcendent, can soar up to the atmosphere of Thy wisdom. From eternity Thou hast been removed far above the reach and the ken of the comprehension of Thy servants, and immeasurably exalted above the strivings of Thy bondslaves to express Thy mystery. What power can the shadowy creature claim to possess when face to face with Him Who is the Uncreated?
I bear witness that the highest thoughts of all such as adore Thy unity, and the profoundest contemplations of all them that have recognized Thee, are but the product of what hath been generated through the movement of the Pen of Thy behest, and hath been begotten by Thy will. I swear by Thy glory, O Thou Who art the Beloved of my soul and the Fountain of my life! I am persuaded of my powerlessness to describe and extol Thee in a manner that becometh the greatness of Thy glory and the excellence of Thy majesty. Aware as I am of this, I beseech Thee, by Thy mercy that hath surpassed all created things, and Thy grace that hath embraced the entire creation, to accept from Thy servants what they are capable of showing forth in Thy path. Aid them, then, by Thy strengthening grace, to exalt Thy word and to blazon Thy praise.
Powerful art Thou to do what pleaseth Thee. Thou, truly, art the All-Glorious, the All-Wise.
---
Lauded and glorified art Thou, O Lord, my God! How can I make mention of Thee, assured as I am that no tongue, however deep its wisdom, can befittingly magnify Thy name, nor can the bird of the human heart, however great its longing, ever hope to ascend into the heaven of Thy majesty and knowledge.
If I describe Thee, O my God, as Him Who is the All-Perceiving, I find myself compelled to admit that They Who are the highest Embodiments of perception have been created by virtue of Thy behest. And if I extol Thee as Him Who is the All-Wise, I, likewise, am forced to recognize that the Well Springs of wisdom have themselves been generated through the operation of Thy Will. And if I proclaim Thee as the Incomparable One, I soon discover that they Who are the inmost essence of oneness have been sent down by Thee and are but the evidences of Thine handiwork. And if I acclaim Thee as the Knower of all things, I must confess that they Who are the Quintessence of knowledge are but the creation and instruments of Thy Purpose.
Exalted, immeasurably exalted, art Thou above the strivings of mortal man to unravel Thy mystery, to describe Thy glory, or even to hint at the nature of Thine Essence. For whatever such strivings may accomplish, they never can hope to transcend the limitations imposed upon Thy creatures, inasmuch as these efforts are actuated by Thy decree, and are begotten of Thine invention. The loftiest sentiments which the holiest of saints can express in praise of Thee, and the deepest wisdom which the most learned of men can utter in their attempts to comprehend Thy nature, all revolve around that Center Which is wholly subjected to Thy sovereignty, Which adoreth Thy Beauty, and is propelled through the movement of Thy Pen.
Nay, forbid it, O my God, that I should have uttered such words as must of necessity imply the existence of any direct relationship between the Pen of Thy Revelation and the essence of all created things. Far, far are They Who are related to Thee above the conception of such relationship! All comparisons and likenesses fail to do justice to the Tree of Thy Revelation, and every way is barred to the comprehension of the Manifestation of Thy Self and the Day Spring of Thy Beauty.
Far, far from Thy glory be what mortal man can affirm of Thee, or attribute unto Thee, or the praise with which he can glorify Thee! Whatever duty Thou hast prescribed unto Thy servants of extolling to the utmost Thy majesty and glory is but a token of Thy grace unto them, that they may be enabled to ascend unto the station conferred upon their own inmost being, the station of the knowledge of their own selves.
No one else besides Thee hath, at any time, been able to fathom Thy mystery, or befittingly to extol Thy greatness. Unsearchable and high above the praise of men wilt Thou remain for ever. There is none other God but Thee, the Inaccessible, the Omnipotent, the Omniscient, the Holy of Holies.
---
All majesty and glory, O my God, and all dominion and light and grandeur and splendor be unto Thee. Thou bestowest sovereignty on whom Thou willest and dost withhold it from whom Thou desirest. No God is there but Thee, the All-Possessing, the Most Exalted. Thou art He Who createth from naught the universe and all that dwell therein. There is nothing worthy of Thee except Thyself, while all else but Thee are as outcasts in Thy holy presence and are as nothing when compared to the glory of Thine Own Being.
Far be it from me to extol Thy virtues save by what Thou hast extolled Thyself in Thy weighty Book where Thou sayest, "No vision taketh in Him, but He taketh in all vision. He is the Subtile, the All-Perceiving." Glory be unto Thee, O my God, indeed no mind or vision, however keen or discriminating, can ever grasp the nature of the most insignificant of Thy signs. Verily, Thou art God, no God is there besides Thee. I bear witness that Thou Thyself alone art the sole expression of Thine attributes, that the praise of no one besides Thee can ever attain to Thy holy court nor can Thine attributes ever be fathomed by anyone other than Thyself.
Glory be unto Thee, Thou art exalted above the description of anyone save Thyself, since it is beyond human conception to befittingly magnify Thy virtues or to comprehend the inmost reality of Thine Essence. Far be it from Thy glory that Thy creatures should describe Thee or that anyone besides Thyself should ever know Thee. I have known Thee, O my God, by reason of Thy making Thyself known unto me, for hadst Thou not revealed Thyself unto me, I would not have known Thee. I worship Thee by virtue of Thy summoning me unto Thee, for had it not been for Thy summons I would not have worshiped Thee.
---
Glorified art Thou, O Lord my God! Thou art in truth the King of kings. Thou dost confer sovereignty upon whomsoever Thou willest and dost seize it from whomsoever Thou willest. Thou dost exalt whomsoever Thou willest and dost abase whomsoever Thou willest. Thou dost render victorious whomsoever Thou willest and dost bring humiliation upon whomsoever Thou willest. Thou dost bestow wealth upon whomsoever Thou willest and dost reduce to poverty whomsoever Thou willest. Thou dost cause whomsoever Thou willest to prevail over whomsoever Thou willest. Within Thy grasp Thou dost hold the empire of all created things and through the potency of Thy sovereign behest Thou dost call into being whomsoever Thou willest. Verily Thou art the Omniscient, the Omnipotent, the Lord of power.
---
Magnified be Thy Name, O God. Thine in truth are the Kingdoms of Creation and Revelation, and verily in our Lord have we placed our whole trust. All praise be unto Thee, O God; Thou art the Maker of the heavens and the earth and that which is between them, and Thou in truth art the supreme Ruler, the Fashioner, the All-Wise. Glorified art Thou, O Lord! Thou wilt surely gather mankind for the Day of whose coming there is no doubt—the Day whereon everyone shall appear before Thee and find life in Thee. This is the Day of the One true God—the Day Thou shalt bring about as Thou pleasest through the power of Thy behest.
Thou art the Sovereign, the wondrous Creator, the Mighty, the Best Beloved.
---
---