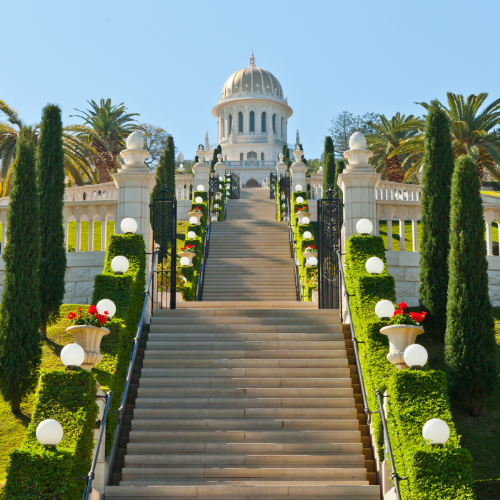 ---
Prayers for Nearness to God
Glory be to Thee, O my God! Thou hearest Thine ardent lovers lamenting in their separation from Thee
Glory be to Thee, O my God! Thou hearest Thine ardent lovers lamenting in their separation from Thee, and such as have recognized Thee wailing because of their remoteness from Thy presence. Open Thou outwardly to their faces, O my Lord, the gates of Thy grace, that they may enter them by Thy leave and in conformity with Thy will, and may stand before the throne of Thy majesty, and catch the accents of Thy voice, and be illumined with the splendors of the light of Thy face.
Potent art Thou to do what pleaseth Thee. None can withstand the power of Thy sovereign might. From everlasting Thou wert alone, with none to equal Thee, and wilt unto everlasting remain far above all thought and every description of Thee. Have mercy, then, upon Thy servants by Thy grace and bounty, and suffer them not to be kept back from the shores of the ocean of Thy nearness. If Thou abandonest them, who is there to befriend them; and if Thou puttest them far from Thee, who is he that can favor them? They have none other Lord beside Thee, none to adore except Thyself. Deal Thou generously with them by Thy bountiful grace.
Thou, in truth, art the Ever-Forgiving, the Most Compassionate.
---
Verily I am Thy servant, O my God, and Thy poor one and Thy suppliant and Thy wretched creature.
Verily I am Thy servant, O my God, and Thy poor one and Thy suppliant and Thy wretched creature. I have arrived at Thy gate, seeking Thy shelter. I have found no contentment save in Thy love, no exultation except in Thy remembrance, no eagerness but in obedience to Thee, no joy save in Thy nearness, and no tranquillity except in reunion with Thee, notwithstanding that I am conscious that all created things are debarred from Thy sublime Essence and the entire creation is denied access to Thine inmost Being. Whenever I attempt to approach Thee, I perceive nothing in myself but the tokens of Thy grace and behold naught in my being but the revelations of Thy loving-kindness. How can one who is but Thy creature seek reunion with Thee and attain unto Thy presence, whereas no created thing can ever be associated with Thee, nor can aught comprehend Thee? How is it possible for a lowly servant to recognize Thee and to extol Thy praise, notwithstanding that Thou hast destined for him the revelations of Thy dominion and the wondrous testimonies of Thy sovereignty? Thus every created thing beareth witness that it is debarred from the sanctuary of Thy presence by reason of the limitations imposed upon its inner reality. It is undisputed, however, that the influence of Thine attraction hath everlastingly been inherent in the realities of Thy handiwork, although that which beseemeth the hallowed court of Thy providence is exalted beyond the attainment of the entire creation. This indicateth, O my God, my utter powerlessness to praise Thee and revealeth my utmost impotence in yielding thanks unto Thee; and how much more to attain the recognition of Thy divine unity or to succeed in reaching the clear tokens of Thy praise, Thy sanctity and Thy glory. Nay, by Thy might, I yearn for naught but Thine Own Self and seek no one other than Thee.
---
O my God! There is no one but Thee to allay the anguish of my soul, and Thou art my highest aspiration
O my God! There is no one but Thee to allay the anguish of my soul, and Thou art my highest aspiration, O my God. My heart is wedded to none save Thee and such as Thou dost love. I solemnly declare that my life and death are both for Thee. Verily Thou art incomparable and hast no partner.
O my Lord! I beg Thee to forgive me for shutting myself out from Thee. By Thy glory and majesty, I have failed to befittingly recognize Thee and to worship Thee, while Thou dost make Thyself known unto me and callest me to remembrance as beseemeth Thy station. Grievous woe would betide me, O my Lord, wert Thou to take hold of me by reason of my misdeeds and trespasses. No helper do I know of other than Thee. No refuge do I have to flee to save Thee. None among Thy creatures can dare to intercede with Thyself without Thy leave. I hold fast to Thy love before Thy court, and, according to Thy bidding, I earnestly pray unto Thee as befitteth Thy glory. I beg Thee to heed my call as Thou hast promised me. Verily Thou art God; no God is there but Thee. Alone and unaided, Thou art independent of all created things. Neither can the devotion of Thy lovers profit Thee, nor the evil doings of the faithless harm Thee. Verily Thou art my God, He Who will never fail in His promise.
O my God! I beseech Thee by the evidences of Thy favour, to let me draw nigh to the sublime heights of Thy holy presence, and protect me from inclining myself toward the subtle allusions of aught else but Thee. Guide my steps, O my God, unto that which is acceptable and pleasing to Thee. Shield me, through Thy might, from the fury of Thy wrath and chastisement, and hold me back from entering habitations not desired by Thee.
---
O God, my God, my Beloved, my heart's Desire.
O God, my God, my Beloved, my heart's Desire.
The Báb
---
O Lord, my God and my Haven in my distress! My Shield and my Shelter in my woes!
O Lord, my God and my Haven in my distress! My Shield and my Shelter in my woes! My Asylum and Refuge in time of need and in my loneliness my Companion! In my anguish my Solace, and in my solitude a loving Friend! The Remover of the pangs of my sorrows and the Pardoner of my sins!
Wholly unto Thee do I turn, fervently imploring Thee with all my heart, my mind and my tongue, to shield me from all that runs counter to Thy will in this, the cycle of Thy divine unity, and to cleanse me of all defilement that will hinder me from seeking, stainless and unsullied, the shade of the tree of Thy grace.
Have mercy, O Lord, on the feeble, make whole the sick, and quench the burning thirst.
Gladden the bosom wherein the fire of Thy love doth smolder, and set it aglow with the flame of Thy celestial love and spirit.
Robe the tabernacles of divine unity with the vesture of holiness, and set upon my head the crown of Thy favor.
Illumine my face with the radiance of the orb of Thy bounty, and graciously aid me in ministering at Thy holy threshold.
Make my heart overflow with love for Thy creatures and grant that I may become the sign of Thy mercy, the token of Thy grace, the promoter of concord amongst Thy loved ones, devoted unto Thee, uttering Thy commemoration and forgetful of self but ever mindful of what is Thine.
O God, my God! Stay not from me the gentle gales of Thy pardon and grace, and deprive me not of the wellsprings of Thine aid and favor.
'Neath the shade of Thy protecting wings let me nestle, and cast upon me the glance of Thine all-protecting eye.
Loose my tongue to laud Thy name amidst Thy people, that my voice may be raised in great assemblies and from my lips may stream the flood of Thy praise.
Thou art, in all truth, the Gracious, the Glorified, the Mighty, the Omnipotent.
---
He is the Compassionate, the All-Bountiful! O God, my God! Thou seest me, Thou knowest me
He is the Compassionate, the All-Bountiful! O God, my God! Thou seest me, Thou knowest me; Thou art my Haven and my Refuge. None have I sought nor any will I seek save Thee; no path have I trodden nor any will I tread but the path of Thy love. In the darksome night of despair, my eye turneth expectant and full of hope to the morn of Thy boundless favor and at the hour of dawn my drooping soul is refreshed and strengthened in remembrance of Thy beauty and perfection. He whom the grace of Thy mercy aideth, though he be but a drop, shall become the boundless ocean, and the merest atom which the outpouring of Thy loving-kindness assisteth, shall shine even as the radiant star.
Shelter under Thy protection, O Thou Spirit of purity, Thou Who art the All-Bountiful Provider, this enthralled, enkindled servant of Thine. Aid him in this world of being to remain steadfast and firm in Thy love and grant that this broken-winged bird attain a refuge and shelter in Thy divine nest that abideth upon the celestial tree.
---
---
Joy & Ecstacy
O Thou the Lord of the visible and the invisible, and the Enlightener of all creation!
O Thou the Lord of the visible and the invisible, and the Enlightener of all creation! I beseech Thee, by Thy sovereignty which is hid from the eyes of men, to reveal in all directions the signs of Thy manifold blessings and the tokens of Thy loving-kindness, that I may arise with exultation and rapture and extol Thy wondrous virtues, O Thou the Most Merciful, and stir up by Thy name all created things, and so kindle the fire of Thy glorification amidst Thy creatures, that all the world may be filled with the brightness of the light of Thy glory, and all existence be inflamed with the fire of Thy Cause.
Roll not up, O my Lord, what hath been spread out in Thy name, and extinguish not the lamp which Thine own fire hath lit. Withhold not, O my Lord, the water that is life indeed from running down—the water from whose murmuring the wondrous melodies which extol and glorify Thee can be heard. Deny not, moreover, Thy servants the sweet fragrance of the breath which hath been wafted through Thy love.
Thou seest, O Thou Who art my All-Glorious Beloved, the restless waves that surge within the ocean of my heart, in my love and yearning towards Thee. I implore Thee, by the signs of Thy majesty and the evidences of Thy sovereignty, to subdue Thy servants by this Name Which Thou hast made to be the King of all names in the kingdom of Thy creation. Potent art Thou to rule as Thou pleasest. No God is there but Thee, the All-Glorious, the All-Bountiful.
Do Thou ordain, moreover, for every one who hath turned towards Thee what will make him steadfast in Thy Cause, in such wise that neither the vain imaginations of the infidels among Thy creatures, nor the idle talk of the froward amidst Thy servants will have the power to shut him out from Thee. Thou, verily, art the Help in Peril, the Almighty, the Most Powerful.
---
All-praise be to Thee, O Lord, my God! I know not how to sing Thy praise, how to describe Thy glory, how to call upon Thy Name.
All-praise be to Thee, O Lord, my God! I know not how to sing Thy praise, how to describe Thy glory, how to call upon Thy Name. If I call upon Thee by Thy Name, the All-Possessing, I am compelled to recognize that He Who holdeth in His hand the immediate destinies of all created things is but a vassal dependent upon Thee, and is the creation of but a word proceeding from Thy mouth. And if I proclaim Thee by the name of Him Who is the All-Compelling, I readily discover that He is but a suppliant fallen upon the dust, awe-stricken by Thy dreadful might, Thy sovereignty and power. And if I attempt to describe Thee by glorifying the oneness of Thy Being, I soon realize that such a conception is but a notion which mine own fancy hath woven, and that Thou hast ever been immeasurably exalted above the vain imaginations which the hearts of men have devised.
The glory of Thy might beareth me witness! Whoso claimeth to have known Thee hath, by virtue of such a claim, testified to his own ignorance; and whoso believeth himself to have attained unto Thee, all the atoms of the earth would attest his powerlessness and proclaim his failure. Thou hast, however, by virtue of Thy mercy that hath surpassed the kingdoms of earth and heaven, deigned to accept from Thy servants the laud and honor they pay to Thine own exalted Self, and hast bidden them celebrate Thy glory, that the ensigns of Thy guidance may be unfurled in Thy cities and the tokens of Thy mercy be spread abroad among Thy nations, and that each and all may be enabled to attain unto that which Thou hast destined for them by Thy decree, and ordained unto them through Thine irrevocable will and purpose.
Having testified, therefore, unto mine own impotence and the impotence of Thy servants, I beseech Thee, by the brightness of the light of Thy beauty, not to refuse Thy creatures attainment to the shores of Thy most holy ocean. Draw them, then, O my God, through the Divine sweetness of Thy melodies, towards the throne of Thy glory and the seat of Thine eternal holiness. Thou art, verily, the Most Powerful, the Supreme Ruler, the Great Giver, the Most Exalted, the Ever-Desired.
Grant, then, O my God, that Thy servant who hath turned towards Thee, hath fixed his gaze upon Thee, and clung to the cord of Thy mercifulness and favor, may be enabled to partake of the living waters of Thy mercy and grace. Cause him, then, to ascend unto the heights to which he aspireth, and withhold him not from that which Thou dost possess. Thou art, verily, the Ever-Forgiving, the Most Bountiful.
---
O my God, O my Lord, O my Master! I beg Thee to forgive me for seeking any pleasure save Thy love, or any comfort except Thy nearness
O my God, O my Lord, O my Master! I beg Thee to forgive me for seeking any pleasure save Thy love, or any comfort except Thy nearness, or any delight besides Thy good-pleasure, or any existence other than communion with Thee.
The Báb
---
Thou art God, no God is there but Thee.
Thou art God, no God is there but Thee.
Lauded and glorified art Thou, O Lord my God! Thou art supreme over the realm of being and Thy power pervadeth all created things. Thou holdest the kingdom of creation within Thy grasp and dost call into being in conformity with Thy pleasure.
All praise be unto Thee, O Lord my God! I beseech Thee by such souls as are eagerly waiting at Thy gate and by those holy beings who have attained the court of Thy presence, to cast upon us the glances of Thy tender compassion and to regard us with the eye of Thy loving providence. Cause our souls to be enkindled with the fire of Thy tender affection and give us to drink of the living waters of Thy bounty. Keep us steadfast in the path of Thine ardent love and enable us to abide within the precincts of Thy holiness. Verily Thou art the Giver, the Most Generous, the All-Knowing, the All-Informed.
Glorified art Thou, O my God! I invoke Thee by Thy Most Great Name through which the hidden secrets of God, the Most Exalted, were divulged and the kindreds of all nations converged toward the focal centre of faith and certitude, through which Thy luminous Words streamed forth for the quickening of mankind and the essence of all knowledge was revealed from that Embodiment of bounty. May my life, my inmost being, my soul and my body be offered up as a sacrifice for the dust ennobled by His footsteps.
I earnestly beg Thee, O Lord my God, by Thy most glorious Name whereby Thy sovereignty hath been established and the tokens of Thy might have been manifested, and whereby the oceans of life and of holy ecstasy have surged for the reviving of the mouldering bones of all Thy creatures and for the stirring of the limbs of such as have embraced Thy Cause—I earnestly beg Thee to graciously ordain for us the good of this world and of the next, to enable us to gain admission into the court of Thy mercy and loving-kindness and to kindle in our hearts the fire of joy and ecstasy in such wise that the hearts of all men may thereby be attracted.
Verily Thou art the All-Powerful, the Protector, the Almighty, the Self-Subsisting.
---
In the Name of God, the Compassionate, the Merciful.
In the Name of God, the Compassionate, the Merciful.
All praise be unto God Who was Ever-Existent ere created things were called into being, when there was no one else besides Him. He is the One Who hath been Ever-Abiding while no element of His creation did yet exist. Indeed the souls of them that are endued with understanding fail to comprehend the least manifestation of His attributes, and the minds of those who have acknowledged His unity are unable to perceive the most insignificant token of His omnipotence.
Sanctified art Thou, O Lord my God. The tongues of men fall short in extolling Thy glorious handiwork, how much more then would they falter in lauding the majesty of Thy transcendent power; and since human understanding is sore perplexed to fathom the mystery of a single object of Thy creation, how can anyone ever attain the recognition of Thine Own Being?
I have known Thee by Thy making known unto me that Thou art unknowable to anyone save Thyself. I have become apprised by the creation Thou hast fashioned out of sheer non-existence that the way to attain the comprehension of Thine Essence is barred to everyone. Thou art God, besides Whom there is none other God. No one except Thine Own Self can comprehend Thy nature. Thou art without peer or partner. From everlasting Thou hast been alone with no one else besides Thee and unto everlasting Thou wilt continue to be the same, while no created thing shall ever approach Thine exalted position.
All men, O my God, confess their powerlessness to know Thee as Thou knowest Thine Own Being; the generative impulse Thou hast released is manifest throughout the entire creation, and all created things which Thou hast fashioned are but expressions of Thy wondrous signs. Magnified be Thy name; Thou art immeasurably exalted above the strivings of anyone among Thy creatures to attain Thy recognition as is befitting and worthy of Thee.
Praise be unto Thee! The way in which Thou hast called into being Thy creation out of non-existence preventeth all created things from recognizing Thee, and the manner in which Thou hast fashioned the creatures, with the limitations imposed upon them, proclaimeth their utter nothingness before the revelations of Thine attributes.
Exalted art Thou, O my God! All mankind are powerless to celebrate Thy glory and the minds of men fall short of yielding praise unto Thee. I bear witness in Thy presence, O my God, that Thou art made known by Thy wondrous tokens and art recognized through the revelations of Thy signs. The fact that Thou hast brought us forth into existence prompteth me to acknowledge before Thee that Thou art immeasurably exalted above our praise, and by virtue of the qualities wherewith Thou hast endowed our beings I testify unto Thee that Thou art transcendent beyond our comprehension.
Grant that I may soar to the noblest heights in approaching Thee, and enable me to draw nigh unto Thee through the fragrance of Thy holiness. Thus may all impediments be dissolved by the light of ecstasy, and all remoteness from Thee be dissipated by my attainment unto the seats of reunion, and the subtle veils which have hindered me from entering Thy mansion of glory become so rarified that I may gain admittance into Thy presence, take up my abode near Thee, and voice the expressions of praise wherewith Thou hast described Thine Own Self unto me, bearing witness that Thou art God, that there is no God but Thee, the One, the Incomparable, the Ever-Abiding, that Thou dost not beget, neither art Thou begotten, that Thou hast no offspring, no partner, nor is there any protector against humiliation but Thee, and Thou art the Lord of all worlds. I bear witness also that all besides Thee are but Thy creatures, and are held within Thy grasp. No one is favoured with means or liveth in want except by Thy Will. Thou art the King of everlasting days and the supreme Ruler. Thy might is potent over all things and all created things exist by Thy Will. All mankind recognize their lowly servitude and confess their shortcomings and naught is there which doth not celebrate Thy praise.
I beseech Thee, O my God, by the glory of Thy merciful Countenance and by the majesty of Thine ancient Name not to deprive me of the vitalizing fragrance of the evidences of Thy Days—such Days as Thou Thyself hast inaugurated and brought forth.
---